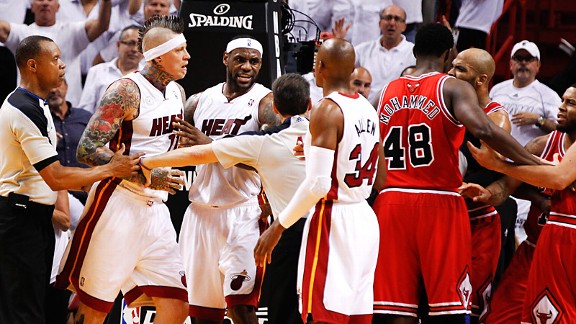 Lloyd James comrades provide an unrivaled offensive game with collective action and achieved victory by 78-115 to draw 1-1 in the semifinals of the eastern section.
The defending champion Miami Heat returned the losing to the Chicago Bulls in the first game by a landslide victory for him by 115-78 to draw 1-1 in the semifinals of the Eastern Division of the National Basketball Association NBA Wednesday.
The 37-point difference is the largest in the match where Bulls defeat in the playoffs as it is the biggest difference win by the Heat in the playoffs.
Last Monday, the Bulls surprised his host and defeated in the first game of the series, but the hero replied with wonderful offensive performance in the first quarter on his way to a landslide win.
The Miami player Dwyane Wade said: "I think this is our first real show of the season, losing the first game at home was tough."
He added: "We had to stand and look at ourselves in the mirror; I think we did a good job early in the game and that's what we put on the road to victory."
The difference can increase after a Miami by 46 points with eight minutes and 16 seconds from the end before he decided to rest each of the key players in the fourth quarter.
And LeBron James, who was named the best player in the preliminary round regained his known competition level is and finished the game with 19 points after scoring just two points in the first half of the first game.
Miami coach Eric Spouylstra said: "People think that LeBron should be controlled the game and score 40 points in every game."
He added: "If he had the conditions he will do, even if the most useful of him to make attacks to other he will do so."
Ray Allen was the best recorded for Miami with 21 points, including ten free throws.
In another match San Antonio Spurs lost abruptly at home against the Golden State Warriors 100-91 for the two teams tied 1-1 in their series match.