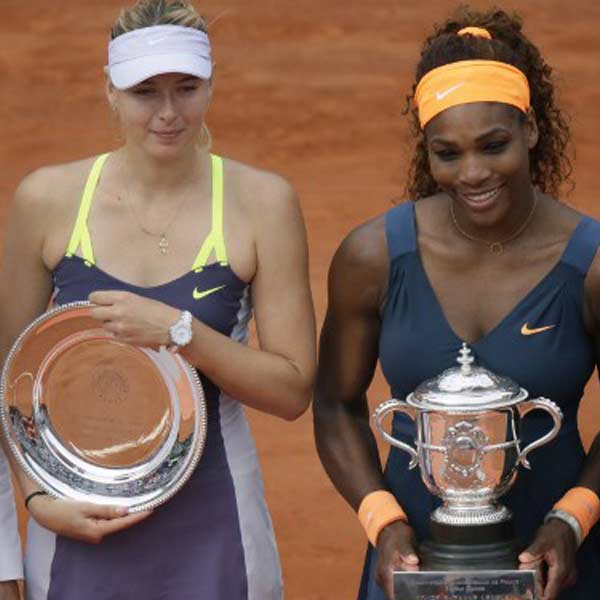 The ranked first on the world Serena Williams made championship title of the French Open (Roland Garros), the second Grand Slam of the four major.
And Williams beat Russian Maria Sharapova, ranked second on the world, 6-4, 6-4 Saturday in the final match of the tournament.
Williams won the title at Roland Garros for the second time in its history after it won the title for the first time 11 years ago.
Williams took one hour and 45 minutes to beat Sharapova and win the Roland Garros title.
Williams recorded / 31/14 wins over Sharapova against two defeats, while another back for Sharapova beat U.S. rival to 2004.
Williams became the oldest player who wins the Roland Garros title after beating defending champion in the final.
Williams said "It was a very tough match today, I was often tense, is a huge win, I'll be back next year, definitely."
She added, "After 11 years of stunning win the title again."
This is the first time in the women's class that combines the final of Roland Garros between the first ranked and second on the world, since Justine Henin met with Kim Clysters in 2004.
Williams participated for the twentieth time in a Grand Slam final, while the eighth is to Sharapova participate.
Sharapova said, "I've made a great tournament, the champion has faced a really good day, I've played (Williams) performed admirably in the last two years."
Serena Williams Said after her coronation Saturday the Roland Garros title for the second time in its history, she does not have a candidate to win the final men's singles and tomorrow between Spaniard Rafael Nadal and compatriots David Ferrer.
Williams said in remarks after the win over Maria Sharapova in the final of Roland Garros today 6-4, 6-4 "Nadal legend, but I'm impressed with the work ethic displayed by Ferrer."