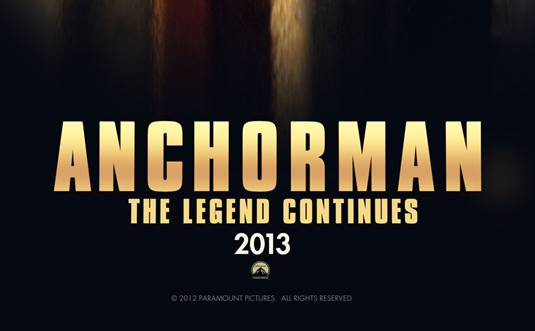 Anchorman2 the Legend Continues is a film released on December 20, 2013. It is an American comedy film which is produced by Judd Apatow and directed by Adam Mckay. This film is completing the film Anchorman: The Legend of Ron Burgundy which released in 2004.
Little information regarding the plot was revealed inside the film's teaser trailer. In an April 2012 meeting, director Adam McKay said the script was obviously a work in progress. He declared that this story might incorporate a custody battle and bowling. In a May 2012 interview, he was quoted as proclaiming that nothing was set. The story is moved from San Diego to New York to the movie. It has recently been confirmed that Kristen Wiig may play Brick's wife.
Movie's cast are: Will Ferrell as Ron Burgundy, Christina Applegate as Veronica Corningstone, Paul Rudd as Brian Fantana, Steve Carell as Brick Tamland, David Koechner as Champ Kind, Fred Willard as Garth Holliday, and Luke Wilson as Frank Vitchard.
This is the first movie in which Paramount Pictures releases it, so the agreement between Paramount Pictures and Adam McKay was done to lunch a sequel to the first Anchorman Movie.
Will Ferrell said in a Charitable event which happened in May 2012 that script writing had begun and the movie will be released between the autumn 2013 and Christmas 2013.
The director Adam McKay said that the actress Christin Wiig will participate in this movie.
This first part of this movie was Anchorman: The Legend of Ron Burgundy, Anchorman titled in Castilian in Spain and Anchorman: The Legend of Ron Burgundy in Latin America, is a comedy film released on July 9, 2004 in America and October 1 of the same year in Spain. Starring Will Ferrell, Christina Applegate, Steve Carell and Paul Rudd. Directed by Adam McKay and written by the latter and Will Ferrell. Produced by Judd Apatow.