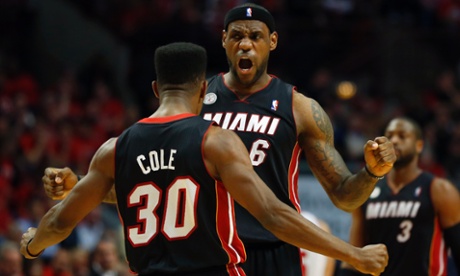 LeBron James rose in the third quarter to lead the Miami Heat to a 90-79 home win over the Indiana Pacers on Thursday and lead 3-2 in the series seven games between them in the final of the eastern section of the American Basketball League for professionals.
Miami, which had appeared in its natural state late 44-40 and the team, was successful convergence of the score but James superbly upgraded in the third quarter, during which the Heat scored 30 points against 13 for his rival.
And the superiority of James is the best player in the league four times on all players Indiana on points during the quarter as it scored 16 points thanks to his success in seven of the ten-pointers and helped Adonis Salem superbly scored ten points in the third quarter rose five throws successful of the five.
Although Indiana started the fourth quarter in a good way, recording five consecutive points, while James went out to resting the return of the commander of the Miami Stadium ensured greater confidence to the landowner.
James finished the game with 30 points and grabbed eight rebounds and six assists crucial balls while Paul George was the best recorded for the Pacers with 27 points and 11 rebounds.
The sixth game will be played in Indiana on Saturday though Miami won the league title defender will qualify to the final for the third time in a row, will face the San Antonio Spurs.
The 28 years old player James could during his tour with Miami heat over three years achieve the best of his in comparing him when he was playing with Cleveland Cavalries Club over six years.
I think and I hope that Heat will be again NBA according to his results and the existence of the
frightful triple players James, Bosh, Dwyane Wade.